Fetty is a cutting-edge jewelry company based in Brooklyn, New York. The company was spawned when up and coming rock and roll icon, Justin Tranter, began designing necklaces to sell at shows for his garage glam band Semi Precious Weapons. Tranter has a strong background in jewelry, having previously worked day jobs in jewelry stores as a buyer, as well as having a mother who is a successful custom engagement ring designer. Thanks to a loyal fan base and Tranter's entrepreneurial spirit, Fetty's jewels soon caught the attention of Urban Outfitters, who began selling their jewelry nationwide. The ever burgeoning company then created a 14K gold, sterling silver and diamond line created for Barneys COOP and has attracted celebrity clientele including supermodel and fashion queen Kate Moss. Through all its thriving success, Tranter keeps Fetty on the forefront of trendsetting styles by staying true to his rock and roll spirit. Fetty now has 3 different collections/companies under its umbrella.
Fetty Signature Jewelry
, which is all sterling silver, 14K Gold and diamond. It Can be seen at Barneys NY, Barneys COOP, and
www.barneys.com
fame
, which is plated brass and austrian crystal. (more detail below)
Precious Weapons
, which is base metal jewelry inspired by Semi Precious Weapons. It can be seen here at
www.semipreciousweapons.com
The current Fetty Signature collection is oxidized sterling silver with diamond braille. The concept has gotten such an amazing response that we have decided to start
f
ame
, so that everyone has the chance to work a fabulous braille piece if they so choose. Even if they can't afford diamonds. Using the formation of Standard American Braille the brass plated collection has pieces that spell the following words:
Magnetic
Baby
Precious
Try
Love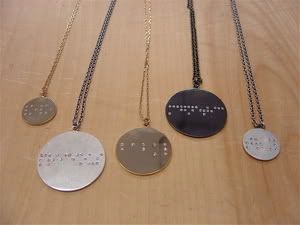 The
fame
collection will be available at the following stores (more to come)!
Nina at Fred Segal
420 Broadway
Santa Monica CA 90401
Alter
109 Franklin St
Brooklyn NY
Lawanna's
155 Grand St.
Brooklyn NY
Jennifer Kaufman
131 N La Cienega Blvd # 650
Los Angeles, CA 90048
For questions and press regarding Fetty, fame, or Precious Weapons please contact
Perry Edwards
perry@semipreciousweapons.com
For wholesale information please contact
Szu Tram at Hatch Showroom
szu@hatchinc.com